The Eternal Reefs program is part of the Reef Ball Network.  Reef Innovations is involved in the production of and deployment of Eternal Reef Balls.
Scheduling your memorial is coordinated by Eternal Reefs.
Click the icon below to be directed to their site for an information, then request an information packet be mailed to you.
---

---
2015  basic information,   please contact Eternal Reefs at www.eternalreefs.com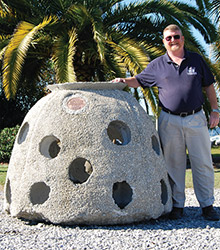 Mariner Eternal Reef
4′ high by 5′ wide (large)
3800 – 4000 lbs.
$6,995
The largest of our reefs, the Mariner Eternal Reef stands out as a pinnacle and attracts larger species of sea life. The Mariner can accommodate up to four sets of remains and is frequently used for spouses and other family members to be together.
---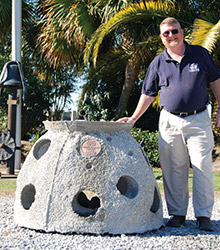 Nautilus Eternal Reef
3′ high by 4′ wide (medium)
1200 -1500 lbs.
$4,995
Our Nautilus is the key building block of a complete reef system. These reefs provide excellent habitats for all types of sea life. The Nautilus can accommodate up to two sets of remains and is frequently used for individuals and their pets.
---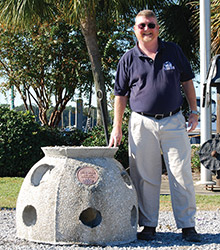 Aquarius Eternal Reef
2′ high by 3′ wide (small)
650 – 800 lbs.
$3,995
The most compact of our reefs, the Aquarius is an excellent complement to the larger structures and is ideal for the smaller varieties of life.